In 3V8SS Station, all antennas have to be squeezed on the roof area. The station is equipped with a 7 Element CT-37HF Yagi for high bands installed at 7m high from the roof. Not far from it (around 8m away) a 5 bands Spider beam is installed at lower height. For low bands, the station is equipped with an inverted-V for 80 and a Ground Plane wire vertical for 40m.
With the sun entering low sunspot cycle, I was thinking how to improve my QSO count on low bands and more specifically on 40m. Being close to Europe is a big advantage.
Back in 2009, the 3V3S team from Germany have installed an 18m vertical for 80/160 using Spiderbeam poles. This fiberglass vertical was broken two times.
Fortunately, a 12m length of it is kept unharmed. I decided then to use it as a second element to the original 40m band - 12m length vertical antenna. I started reading in antenna books and websites about the best configuration. I then decided to make phased verticals using Christman method.
I shared the ideas with Ahmed 3V8CB and Ali 3V/F4HJD, both active members of ARAT. They were more than happy to come and give it a try.
Our objective was to have some gain towards Europe (at 0 deg Az) and NA/AS (respectively at 350 and 20 deg Az). Africa is behind us so there was no need to consider a direction switching relay.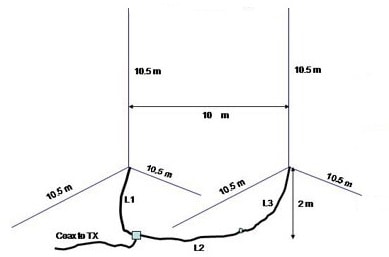 Phased Verticals Schematics
We decided to move a little bit the original vertical and get some distance from the Yagi tower and Spiderbeam. Then we started making use of the old 80/160 poles as a second vertical. Both wire verticals were having two radials. Once up, we started cutting wire length till an SWR of 1.5:1 is obtained. Both verticals are electrically similar. We were a bit concerned about the electrical impact of the 5m mast holding up the new vertical.
I used VA7ST Christman Phasing calculator to calculate feedline lengths for an operating frequency of 7.050 MHz. A velocity factor of 0.66 was used for RG58 (50 Ohms). Both antennas were fed by 84-degree feedlines (about 6.5m) with additional 72-degree (about 5.5m) to the northern vertical (the front element). We didnít have an antenna analyser to further adjust lengths, all had to be fixed by experimentation.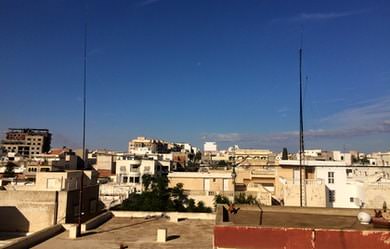 Phased Verticals installed at 3V8SS
The triple point (where both feedlines are connected to the main coax) was mechanically attached. Myself, Ali and Ahmed made RX and TX experiments by lining up one element then two elements and check the performance. We checked as well the F/B Ratio by manually switching the feedlines between the two verticals.
The SWR of the system was very acceptable (1.5:1 on almost the entire 40 band). Here below are audio recordings of how RX and TX were improved by the new system:
TX Audio recording: my signal as recorded by ARDAM WebSDR located in Andorra which uses a half wave dipole for 40m: 2016-05-08 10:14Z 7030.0kHz
The first 55 seconds is using the phased vertical. At 2:40, I used a single vertical (old configuration). The difference is clear!
RX Audio Recording: IK5OJB on 40m:
0 to 34s: use of phased verticals beaming EU
35s to 58s: use of single vertical
59s to end: use if phased vertical beaming south